How SureToMeet | MatchUp Turns Events Into Rewarding Conversations for the Best Connections.
For attendees, a MatchUp is as simple as 1-2-3-4!

Attendees control their MatchUp participation from their smartphone's web browser.

Select the type of people to meet.
Answer questions used to match you to like-minded people .
Review and select the best like-minded matches to meet in the bustling event.
We help you find these like-minded people by directing you to a meeting Spot.
Visit and just "click" to exchange contact information.



How smartphone MatchUps enhance networking success
Smartphone apps deliver real-time matches -- crowdsourced and mobile. And SureToMeet | MatchUp turns compatible matches at your events into engaging conversations -- and matches into connections!
The best matches at your event for every attendee!
Organizer flexibility, affordability, and real-time control
Build engaging, sustainable community for your group.
Conversation starters provide meaningful, fast and easy connections with like-minded people.
Social networking connections foster lasting relationships
SureToMeet event management makes networking events easier for organizers
Online event registration using credit cards
E-Mail invitations and reminders
Online registration payments for multiple attendee categories
Online membership management tools
Social networking link-ups that keep members connected
Organizers can have more successful events because SureToMeet | MatchUp matches like-minded people quickly and easily, right at the event! Compatible people find one another across a crowded room!
Crowd-sourced Matching + Personal Control + Affordability
Crowdsourced Matching
Organizers and attendees BOTH can select and craft their own conversation-starters to turn a general networking event into a specialized experience for the attendees who are there -- in real-time! The flexibility of the MatchUp system is unparalleled in the networking world -- online or offline.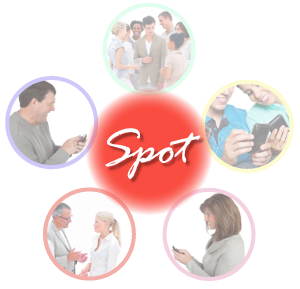 Profiles and conversation starters provide ranked matches at the event.

Meeting spots make connecting fast and easy.

Follow-up connections nurture compatible relationships.
Personal Control
Attendees can answer the questions they prefer. They can choose to meet someone -- or not. Their smartphone puts them in charge of the MatchUp experience. Totally!

You'll be recognized for holding high quality networking events and people will keep coming back to nurture like-minded matches and refer their friends.

Organizers win because your attendees get quality results!